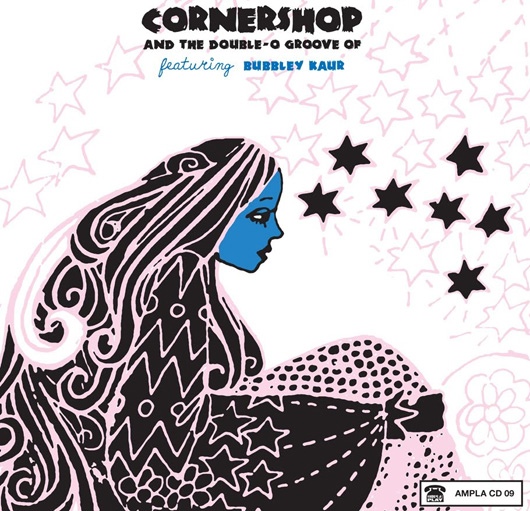 Imagine walking the streets during a bazaar, street fair, or some other festive gathering where celebration mixes with people's everyday activities: strolling, shopping, errands. Perhaps you're in or near an urban park during a festival or parade.
Music animates the air: blaring from boom boxes, spilling out of open doorways, buzzing from loudly tuned iPods, spouting from amps broadcasting musicians on an unseen bandstand; the mixture resounds and rebounds off surfaces and buildings near and far. Blend into this canorous mixture an undercurrent of the speech and song of the milling public, numerous conversations, announcements, ads, chants, shouts, cries, calls. At first, you're not quite paying attention, simply letting the sound wash over you. But gradually, perhaps even suddenly, a realization occurs—you're listening to a single, spontaneous song.
At first, the atmosphere seemed a formless audio mélange of diverse musical styles: rock, pop, funk, punk, folk, psychedelia, soul, R&B, reggae, AOR, MOR, electronica, house, gospel, hip-hop. Now, as you walk, the resonances of this locale have transformed into an album. The disparate styles flourishing around you have somehow strangely, wondrously come together. No matter how far or in which direction you walk, or whichever new style rises in the mix, the songs hold true. The underlying rhythm constantly transmutes, threatening dissolution but is held together by one prominent feature. Carrying above the street rhythm is an ambrosial woman's voice, guiding you through the changes. You don't know the language in which she's singing but are transfixed nevertheless. Staggered at first, you start to dance.
This is how I visualize Cornershop's latest album, Cornershop and The Double 'O' Groove Of (Ample Play). For me, a new Cornershop album is a cause for celebration, first because of their infrequency: six records in 20-ish years, seven if you count the 2000 "Clinton" side project Disco and the Halfway to Discontent, plus an assortment of EPs, singles, and remixes. Conveniently, the music contained on each album is an ideal soundtrack for festivity, no matter your mood or melodic persuasion. And Cornershop is the quintessential celebration of popular music through both space and time. Its albums sound like nothing else out there—because like no one else, Cornershop sounds like everything else out there.
Cornershop and The Double 'O' Groove Of is another singular and captivating turn in a career defined by defiantly unconventional moves. In the context of typical music world hype, that's not saying much. Claims that a band commits some form of artistic transgression are commonplace, if not obligatory, for street cred. The rock-n-roll-rebel meme still rules, even as the music has fragmented and mutated. The contravention of choice is to cross over, leading to a surfeit of style sippers and genre skimmers.
Yet even against this backdrop, Cornershop quietly—in that they receive nowhere the amount of press as lesser nonpareils—manages to be truly inimitable in their sound and approach to music making. Adventure and invention abound in their records.
The short history of Cornershop is of a raucous British guitar-based agit-pop group that quickly transmutes into…well, everything. The core of its changing membership has been college chums Tjinder Singh and Ben Ayres, with Singh serving as producer, principal songwriter, and usual lead vocalist. Its greatest intrusion into popular consciousness was their 1997 LP When I Was Born for the 7th Time and its smash single "Brimful of Asha." The record was a landmark of sonic invention and adventure, through the astonishing assortment of musics incorporated into its mix, to stretching the definitions of what constitutes a "song." Tracks that on first listening seemed throwaway trifles or a clashing blend of elements became revelations of insistent, compelling cross-cultural grooves. Singh's sonic imagination seemed limitless, especially when he quadruple-downed on the follow up (and Cornershop's masterpiece to date), 2002's Handcream for a Generation.*
For its efforts, Cornershop has dutifully received credit for clearing a "World Music" path for acts like M.I.A. and Vampire Weekend. However, more than bringing acceptance to World Music themes, Cornershop does the greater service of demolishing the brittle, patronizing label. In a relentlessly-cited era of globalization, Cornershop stands as a healthy example of pandemic perspective and possibilities.
The challenges the band presents to popular music—its audience and industry—are as audacious as those they assume for themselves. Foremost is a determination stated by Tjinder Singh, "The only thing that all our records have in common is that each one tries to sound utterly different."
Creatively, there isn't a more formidable task a band can assume, requiring the broadest musical palette imaginable and the ingenuity to use it. However, that's nothing compared to the considerable commercial risk inherent in Singh's declaration. It negates the possibility of establishing a signature sound, a major aspect of economic viability. You might tinker with your sound but not overhaul it wholesale. Due to its frequent guest vocalists, you can never be sure you're listening to Cornershop unless Singh's voice is the lead. Keeping an audience guessing if it's even you quickly leads to the question, will you have an audience? A creative risk without a marketing risk isn't a risk.
Not only do Cornershop albums each have distinct personalities but are unpredictable from track to track. And then the songs can swerve off on idiosyncratic angles. Amongst it all are offbeat but unerring production touches (sound effects, dialog, children's choruses, samples). It's a testament to Singh's talents that the records spin true instead of flying apart in all directions. On its own, Cornershop is the ultimate mixtape.
Cornershop and The Double 'O' Groove Of continues to make good on Singh's resolve. Its particular trait is extending two signature vocal aspects of the group's albums. A particular highlight of each has been the Punjabi track, voiced by Singh. With Double 'O', the entire album is sung in the language—but by a featured singer. Right away, this is a distancing aspect for mainstream and indie audiences. (Though not unprecedented—and intriguing when predecessors are considered: see Los Lobos' La Pistola Y El Corazón.)
As front man, Singh has demonstrated no vocal ego, passing the mic to an assortment of guest vocalists. Double 'O' spotlights the pseudonymous Bubbley Kaur (a moniker adapted from a lyric of Handcream for a Generation's "Wogs Will Walk"), who also collaborates with Singh with the songwriting. Traditionally (and contractually) vocals have been the defining element of popular musicianship. Switching what's typically a fixture into a variable evinces a significant dedication to making musical choices over personal aggrandizement.
"Featuring" is a standard hip-hop credit line as performers bolster one another's image. With Cornershop, frequent guesting establishes them as more a community than "group," not so much a band making music than an idea of music making. Collaboration is an vital, ongoing vital aspect: Allen Ginsberg (yes, that Allen Ginsberg), Rob Swift, Paula Fraser, Dan the Automator, Noel Gallagher, Otis Clay, M.I.A., Soko, and Fatboy Slim, are a select few of a panoply who've collaborated with or contributed to Cornershop.
At the heart of Double 'O' is Singh's desire to "mix western music with Punjabi folk in a way that wasn't crude." "Western music" encompasses a multiplicity of stances and Singh doesn't skimp, offering ten stylistically dissimilar tracks, unified in accomplishment. As always, Cornershop evade pastiche and formalist exercises.
"I've always thought of Punjabi folk as a precursor to hip-hop," Singh said recently in a interview about his songwriting, "It's beat-based, storytelling, parochial — what's going on around a village. A lot of it is to do with functions – weddings, meetings. Other bits are more melancholy — what has happened to her relatives, or the relationship break-ups. But it's often light-hearted and upbeat." This succinctly summarizes the textures of Double 'O'. The traditional Indian rhythm that kicks off the album's the sassy opener "United Provinces of India," quickly meshes with funky guitar and scratchy breaks.
As with all Cornershop albums, you never know what's coming up next—and how Singh and company will make it work. There's the stately harpsichord that punctuates the soul saunter of "Double Decker Eyelids;" the rollicking piano-driven, clattering timber percussion of "The Biro Pen;" "The 911 Curry" brassy blasts handing off to analog synth etudes; the sci-fi twiddling synths that open the hyperactive sax bounce "Supercomputed;" the regal trumpet samples framing the leisurely march of "Once There Was a Wintertime;" the folksy acoustic guitar picking pop of the joyous closer "Don't Shake It." Oh yeah, there's even a sitar snippet plinking through "Double Digit."
The binding force of the set is the varied beats and drum cadences that serve as propulsion, bridge, and soloist. Locked in rhythm are similarly jiving and melodic basslines. But the essential presence in the Double 'O' fusion excursion is Bubbley Kaur — Beatrice to Singh's Dante.
In its aural flavorings, the album acts as intersection and realization of intent of two landmark records, 1968's The Beatles and the 1981 Brian Eno/David Byrne collaboration My Life in the Bush of Ghosts. The "White Album" is the determinative manifold album, where The Beatles indulged every production and stylistic whim in one sprawling 2-LP set. Double 'O' offers the same capricious transitions and escapades.
Eno and Byrne famously — and, at the time of its release, notoriously—layered appropriated vocals over their composed rhythm tracks. Similarly, Singh has disconnected the lyrical "meaning" of Bubbley Kaur's songs from their musical accompaniment. The results didn't always go down well with her. Kaur speaks of being taken aback even by their initial 2004 effort, the marvelous double single "Topknot"/"Natch." Fortunately, she came back for more shocks.
Singh declines to release even the Punjabi lyrics to the songs, wanting to direct focus to the pure emotive quality of Kaur's voice. By this, the vocal approach comes closer to puirt a beul—"mouth music." Other touchstones can be found in British pop with Cocteau Twins or, in an American avant-garde mode, Meredith Monk. While I'm an admirer of the elliptical but evocative lyrics typically found on Cornershop albums (Singh hands-down contrives the best song and album titles — sorry, Morrissey), the results here sing for themselves.
Cornershop's music is a studio-only construct. It's wholly designed: constructed, sampled, and assembled rather than traditionally performed. The image Ben Ayres provides of its making sounds more like a designer at work than gigster: "Tjinder would be working like a mad professor in his studio on the tracks when I'd turn up….it was pretty intense."
Music that's entirely a recording studio creation has been with us for decades. Yet for being engineered, such productions are no less immediate, fresh, honest, and moving—emotionally and physically. Popular music has, of course, been patently constructed since the advent of modern recording technology, notably so in the 1960s. The "studio as instrument" concept recognizes this reality. However, simply having an arrangement enters music into the "designed" realm, far ahead of recording technology.
The sampling and scratching methods prevalent in popular music can provide insightful models for designers struggling to navigate notions of originality and authenticity in a contemporary creative context. Design, which suffers scorn as an inauthentic, derivative form, is arguably culture's most vital, engaging visual form. Discussing how an artist utilizes the methods is more relevant than if they pioneered a technique. Constructing originality out of samples is counter-intuitive, and for some, flat wrong. But graphic designers should be contemplating contemporary music's processes to lend context to their practice. (And give a shout out here to Nick Edwards' dapper packaging designs for the band).
Cornershop is also instructive in the ongoing cultural negotiation of creative identity (i.e. amateur, professional), and the implications of D.I.Y. In interviews, Singh and Ayres have insisted that they aren't musicians. It's no disparagement of their instrumental abilities to respond amen. Their true status is more significant: music-making people. This subtle distinction has profound implications on one's creative identity—what you're willing to do and how you carry yourself. It's the difference between a job and a calling.
Tellingly, music is the most common subject of Cornershop songs, more than is exhibited in its song titles ("Born Disco; Died Heavy Metal," "Brimful of Asha," "Music Plus 1," "Slip the Drummer One," "Button Down Disco," "Hip-Hop Bricks," "Wop the Groove," "Who Fingered Rock n Roll," "Soul School," "Non-stop Radio," etc.) Cornershop's amazing reach is due to Tjinder Singh's status as musical omnivore and inveterate record collector. "Brimful of Asha" puts the famed playback singer out front but is a sly paean to vinyl. The tune's a global jukebox inventory of musicians and record labels, where Marc Bolan gets name-checked. (Another memo to graphic designers: check out the delightful display of faux single bags in the song's video.)
It may be another ultrafine distinction to pull the thread of music makers compelled by and reimagining their personal record collection. Here, Singh has affinity with James "LCD Soundsystem" Murphy in self-deprecation, no-BS attitude, disdain for rock star trappings, and dance floor apotheoses. Both readily cite their influences and downplay their talents. Murphy's self-portrait looks a lot like Singh: "I don't believe I'm this wildly original individual. I don't believe that I'm astonishingly charismatic and really need to be heard as an individual voice. I do believe I take music very seriously. I do believe I am a very good manipulator of sound and I'm very interested in how sound affects my body and I do believe that is relevant to how it affects other people's bodies." In interviews, Singh and Ayres are similarly forthright, wry, and yet idealistic about their enterprise. Their attitude is a refreshing departure from the ongoing, overserious rock star affectation and angst that culminates in little more than "look at me!"
Cornershop matter-of-factly demonstrates the unities and common causes in music. They expose the rhythmic and melodic roots and graft new branches. All actions that unify are welcome, especially if we can dance to them. Proclaiming music to be a universal language is a platitude with merit—with the provision that music is a universal language of music. What audiences like in music is about more than the aural quality. For good and ill, music is bound up with self-identity. The niche fracturing of the marketplace has contributed positively to the dissolution of labels (my iTunes tells me Double 'O' is of the "Pop" genre while its predecessor Judy Sucks a Lemon for Breakfast is "Alternative." How wrong, how right.) But those numerous hybrids all have adherents who won't hazard crossing a line.
It may not be the most representative sampling of Cornershop's potency in boundary bounding but my 11-year-old daughter hears a lot of its music driving around with me. She's always seemed to prefer signing along to the Indian-language tracks. I'll dial up Double 'O' for the additional entertainment of hearing her invented Punjabi harmony. Kaur won't be denied a treasured spot in your brain, given the chance.
In the circumstances of its making and the evidence of the results, Cornershop grants us music that's affirming and expansive. The members live in Britain but are indigenous in music. Their particular music may provide creative types some guidance in their necessary obsession with globalism and crossing cultures. Then again, it may not. We'll just have to settle for some wildly ingenious, infectious tunes.
As its ultimate challenge and promise to listeners, the When I Was Born for the 7th Time track "Good Shit" could be Cornershop's manifesto. They're words I live by when contemplating music (and graphic design). In the verses, Singh first offers us a challenge:
I want each and all to switch your tiny mind on
I want each and all switch on your tiny mind
before he slips smoothly into the chorus and its earthy, optimistic affirmation:
Cause good shit's all around good people
Don't let it get you down, good people
Good shit's all around, it's all about, it's all around
And, good people, the best shit is found at Cornershop.
*I allege this with great trepidation, as Singh recently wrote on Facebook: "Always been of the belief that when the Handcream LP gets recognised then the group would finally be in a position to stop." So fans, please do not like this particular album too much.