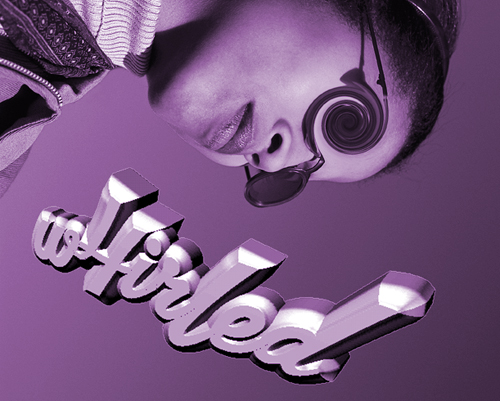 The News of the Whirled was the journal of Ephemeral States from 1997–2004. The project was conceived as a novel in the form of a magazine—for which I was editor, principal writer, designer, and imagist. Each installment created around a separate "cover story" through which readers might interpret the contents. Readers who weren't exposed to this story might then interpret the magazine differently. The publication overall was a magazin trouve, as it made extensive use of "found" material, chance, and accident in its making. It was also an intentional found object in its distribution, which largely consisted of leaving stacks of free copies in places like laundromats, bookstore entryways, and wherever such odd artifacts wouldn't expect to be discovered. In addition to the awards noted below, the Whirled series is in the permanent Graphic Design Collection of The Goldstein Museum of Design at the University of Minnesota.
---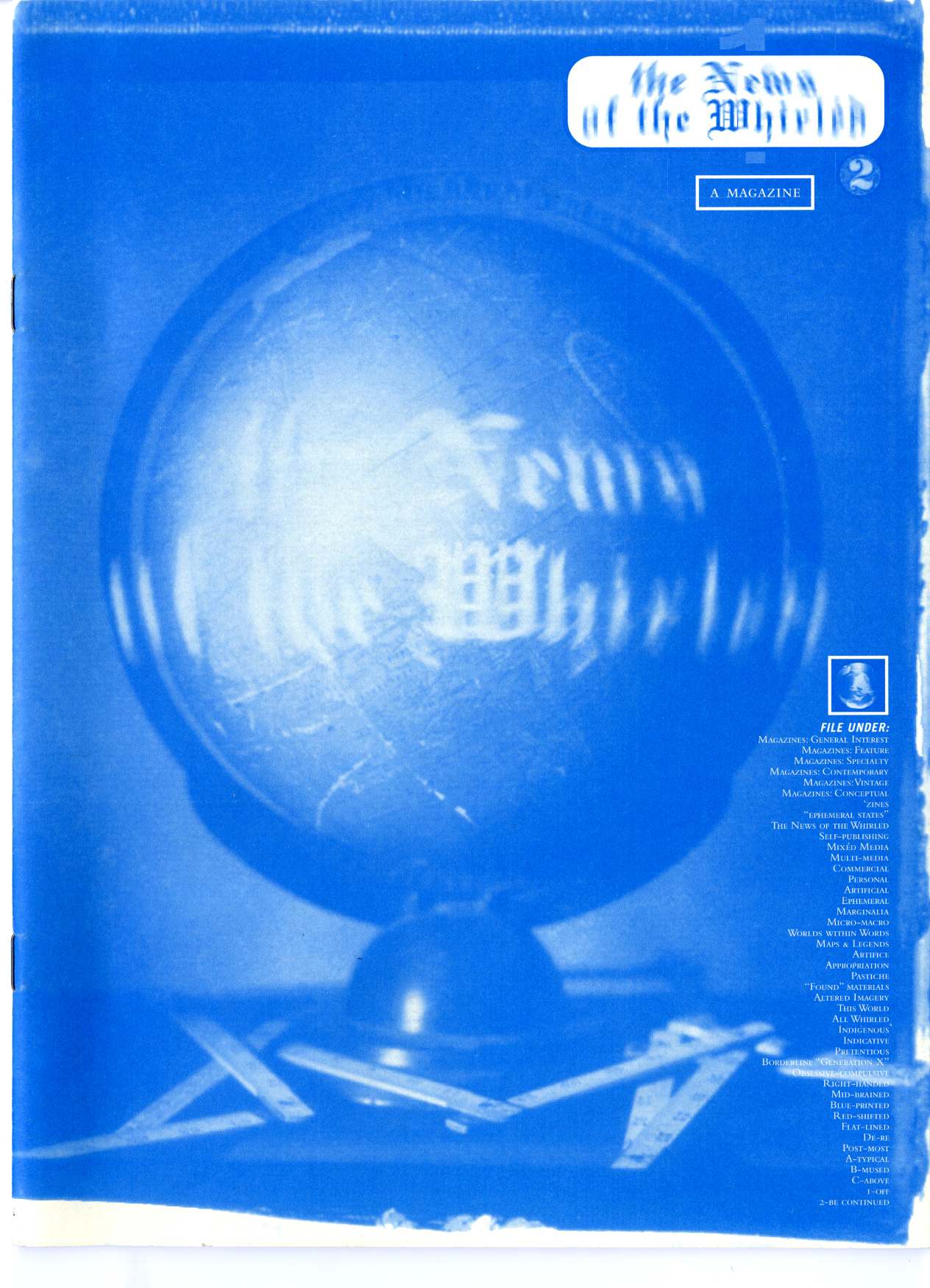 Issue #1: Blue-print.
In 2030, the cultural engagement group Ephemeral States stuns the world by announcing its intent to produce a printed hard-copy magazine as its next release. The project will be both a homage to and commentary on print–now obsolete–along with its producers and consumers. Ephemeral States will take as models the magazines of the 1990's, when the form was arguably at its peak. Diverse publications of the time are blended and distorted: mass-market slick and one-off 'zine blur together. Formal aspects dictated by economic necessities are interpreted as fashion statements. Advertisements are seen as editorial content; editorial content is considered distraction. The group teams up in pairs, resurrecting traditional functions such as writer, designer, and editor. Disputes increase as they enforce strict adherence to these discrete roles. Arguments and sabotage become common. As Ephemeral States explores the differing ideas of community contained within magazines, its own four member cooperative begins to fracture. The project is beset by mechanical difficulties restoring and mastering the antiquated technology. Frustrating concessions and bizarre innovations are made by turns. Eventually, after innumerable delays, astronomical cost overruns, creative differences that eventually split the group, and the scrutiny of a skeptical yet eagerly waiting public, they release The News of the Whirled.
32 blue printed pages. 8.3125″ x 11.25″
denizens: Carrie Abel, Melanie Zyck Alberts, George Creamer, Mary Joan Deutschbein, Rebecca Doughty, Elliott Earls, Karen Fitzgerald, Keith Fitzgerald, keven fitzgerald, Hilary French, April Guenther, Joan Henson, Ellen Hutta, Dr. Joseph Hutta, John Kramer, Bruce Lucier, Lauren McLean, John McVey, J.E. Paterak, David Shibler, Tina Simonton, Marcella Stasa, Tracy Storer, Silvia Taccani, Heidi Thomas, Michael Valenti, and Rudy VanderLans.
Issue #1 was commissioned by Emigre and originally published as an insert in Emigre 41.
---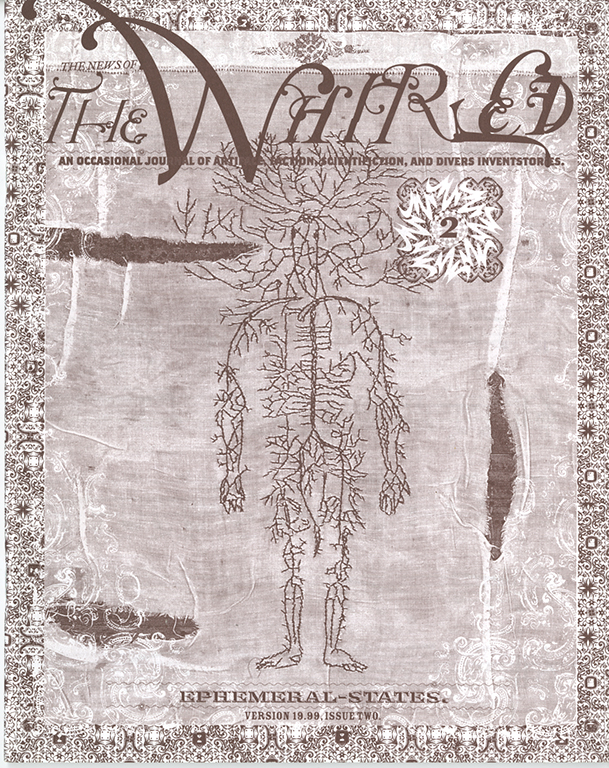 Issue #2: Red-shift.
A magaziniste is drawnt up in a vortexture what transportions hir beforewhorld one-hundread yearns. Traispsed in awhirl she never-maid, this anarchronist creafts a locument to re-late ser vieu of what goems aefore, by bastering and usilizing the tecknowledgy of the errar. Foreword of a simulate prosect, se nomes it The News of the Whirled.
56 sepia toned pages. 8.5″ x 10.625″
indigeny: George Creamer, Jessica Durrant, keven fitzgerald, Kay Huang, Ellen Hutta, Catherine Ishino, John Kramer, Dana Salvo, Dawn Southworth, Marcella Stasa, and Gunnar Swanson.
Issue #2 was selected for the American Center for Design's 22nd annual "100 Show" in 2000, and the AIGA/Minnesota Design Show of Excellence in 1999.
---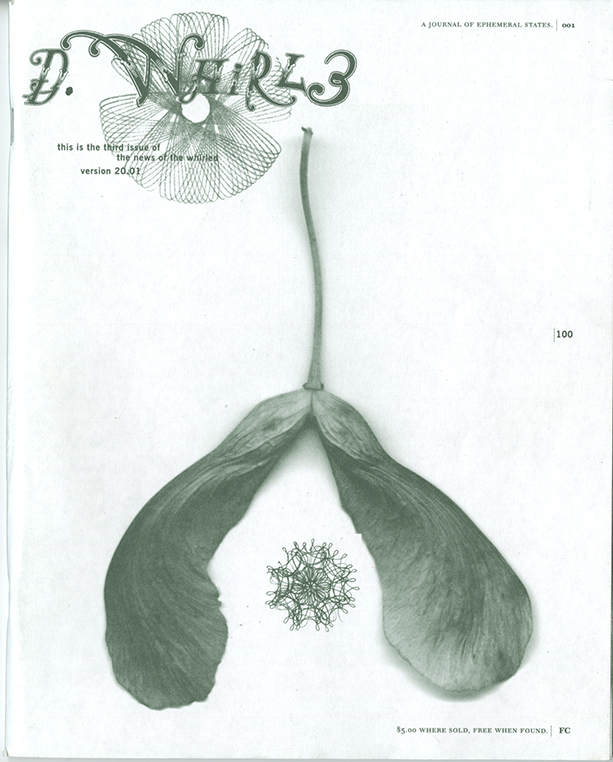 Issue #3: Green-leaves.
Quantum theory proposes that an infinite number of universes exist, amongst them myriad versions of you. Each of you has come into existence from a choice. When a yes/no decision presents itself, an alternate universe is formed where you took the other path. The other you moves off to an unknown destiny. For the majority of us, these universes are closed off, forever inaccessible. But for an unfortunate few, it is possible to accidentally, unwillingly, slip into one of these alternate realities–and become trapped there. To enter a universe so familiar, yet so strange, is profoundly disturbing to the most adaptable of people. To aid themselves in adjusting to their new realities, to form community, and bring news, a group of these self-described "slippers" create a magazine to be available across the universes. This journal celebrates indeterminacy, dislocation, and the desire to narrate an open-ended life. They call the magazine The News of the Whirled.
100 verdant pages. 8.375″ x 10.5″
performers: Steve Bardolph, Zac Bentz, Joan Henson, Ellen Hutta, Helvetica Jones, Arin Kukis, Michael Schmidt, Marcella Stasa, and S.E. Szucs.
Issue #3 received an Outstanding Merit Award in AIGA/Richmond's 2002 Greater Richmond Awards for Design Excellence.
---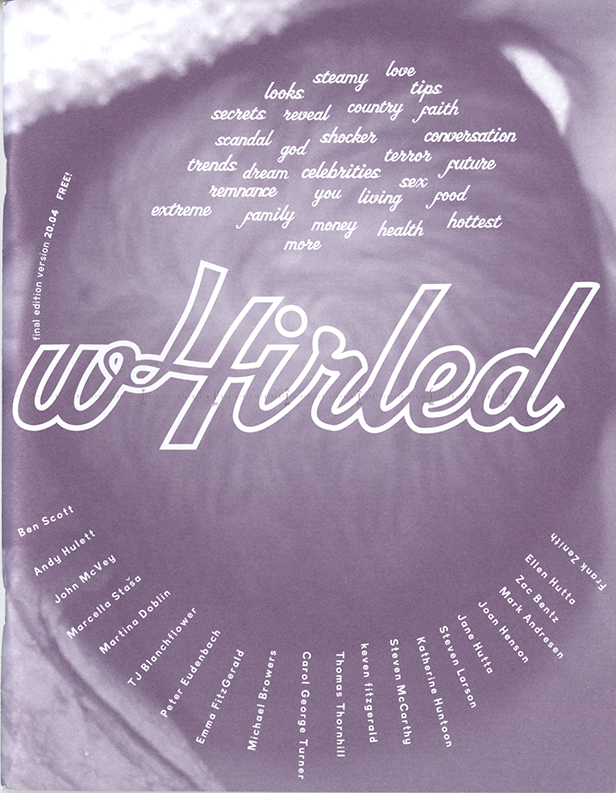 Issue #4: Violet opposition.
A momentary disruption in worldwide telecommunications networks scrambles data transmissions for thousands of print media outlets. Organizations discover that their digital text and image files have mixed with numerous others'. The disturbance also causes subtle corruption of the information, producing strange output results. Data retrieval specialists are unable to de-fuse the files or reliably trace particular streams back to their point of origin. No one is able to determine if the disruption event was natural (sunspots?) or deliberate (sabotage?). Meanwhile, an anonymous, independent group that monitors information flow through networks is intrigued by the odd amalgam of content that results from the event. It decides to publish a random sampling of the mixed media as a "found object"–a magazine trouve. They consider it the voice of the Network itself. From a reference buried deep in the media morass, they adopt the title of an obscure, defunct, and possibly fictional journal: The News of the Whirled.
80 purple prosed pages. 8.5″ x 11″
makers: Mark Andresen, TJ Blanchflower, Michael Browers, Martina Doblin, Emma FitzGerald, keven fitzgerald, Joan Henson, Andy Hulett, Katherine Huntoon, Ellen Hutta, Jane Hutta, Steven Larson, Steven McCarthy, John McVey, Marcella Stasa, Thomas Thornhill, and Carol George Turner.
Issue #4 received the "Best 1 or 2 Color Work" award at AIGA/Richmond's 2005 Greater Richmond Awards for Design Excellence.