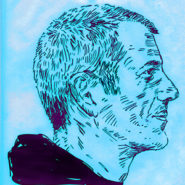 Portrait by Mark Andresen.
This is the site of Kenneth FitzGerald, an educator, designer, artist, curator, and writer living in Virginia USA. It features original writing along with links to other of my online articles. A Tumblr site with images of a selection of art and design works from across my career is linked here (I recommend going straight to the "Archive" page).
Bio
I am author of Volume: Writings on Graphic Design, Music, Art, and Culture, published by Princeton Architectural Press, and had texts appear in Emigre, Print, Eye, Étapes, and Idea magazines; the books The Graphic Design Reader, Culture Is Not Always Popular: Fifteen Years of Design Observer, Total Armageddon: A Slanted Reader on Design, The designer as…author, producer, activist, entrepreneur, curator and collaborator: new models for communicating, Graphic Design and Reading, Thought Experiments in Graphic Design Education, and The Education of a Graphic Designer volume 2; plus the online journals Design Observer, Voice: AIGA Journal of Graphic Design, and Speak Up. I wrote the forward for Stefan Sagmeister's ggg Books monograph, the official bio for the British music group Cornershop, was a guest on Design Matters with Debbie Millman, and been a visiting critic for Cranbrook Academy's 2D Design program, the School of Visual Arts Masters in Branding, and the Vermont College for the Arts' MFA program in Design. The News of the Whirled, my novel in the form of 4-issue limited-edition magazine, received awards for excellence from the American Center for Design and AIGA, and is in the collection of Goldstein Museum of Design at the University of Minnesota. I've been curator of Adversary: an exhibition (of) contesting graphic design, Emigre in Norfolk, Stefan Sagmeister: a graphic designer (with Jiwon Lee), and Repurposes (with Garland Kirkpatrick). I'm also a member of the founding Editorial Board of the academic journal Dialectic, and served on the Steering Committee of the AIGA Design Educators Community.
You can listen to interviews with me on the design podcast Scratching the Surface in May 2017, and Design Matters with Debbie Millman from March 2006.
Or read a March 2016 interview at the VCFA Perpetual Beta blog.
Or view a YouTube video of my presentation, "Singing the Surface," given at the Vermont College of Fine Arts in April 2016.
And watch another video that has the bio commissioned by the British music group Cornershop scroll by while you listen to their excellent 2002 track, "Staging the Plaguing of the Raised Platform."
Work history
Bingo game de-installer
Grocery bagger
Grocery stockperson
Shoe-heel factory worker
Wool mill carding machine operator
Ceramics work-study
Paste-up artist
Museum docent
Janitor
National historic site building manager
Temp worker
Telephone pollster
Department store display assistant
Freelance graphic designer
Data entry
Clerk/secretary
Data/LAN manager
Adjunct art school faculty
Freelance writer
College professor
Education
MFA 1996: Massachusetts College of Art and Design, Design
BFA 1983: Massachusetts College of Art and Design, Ceramics