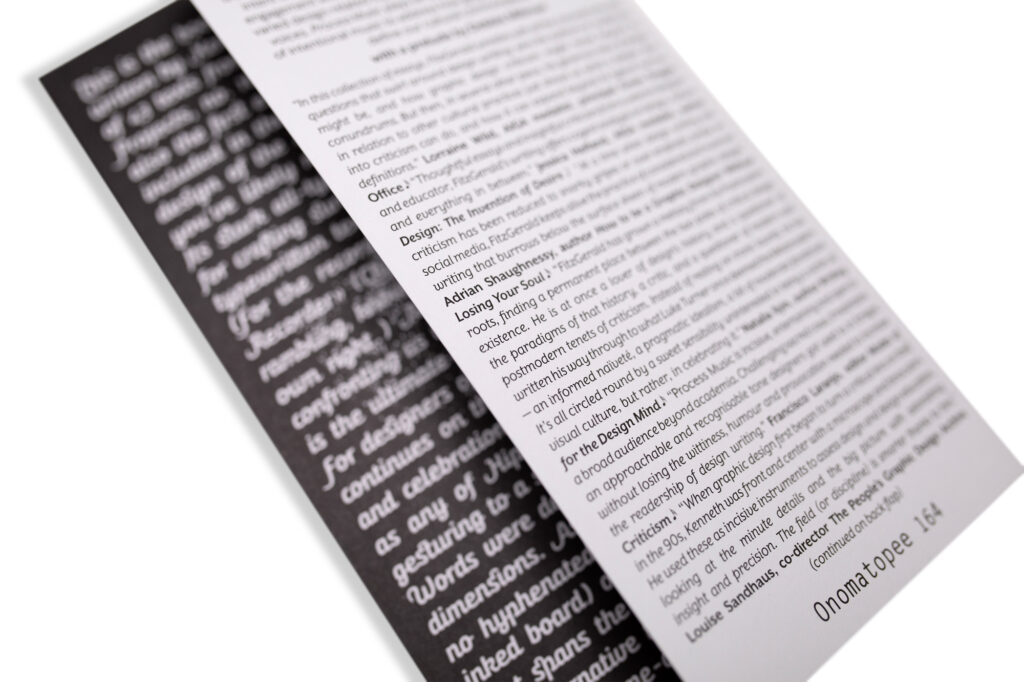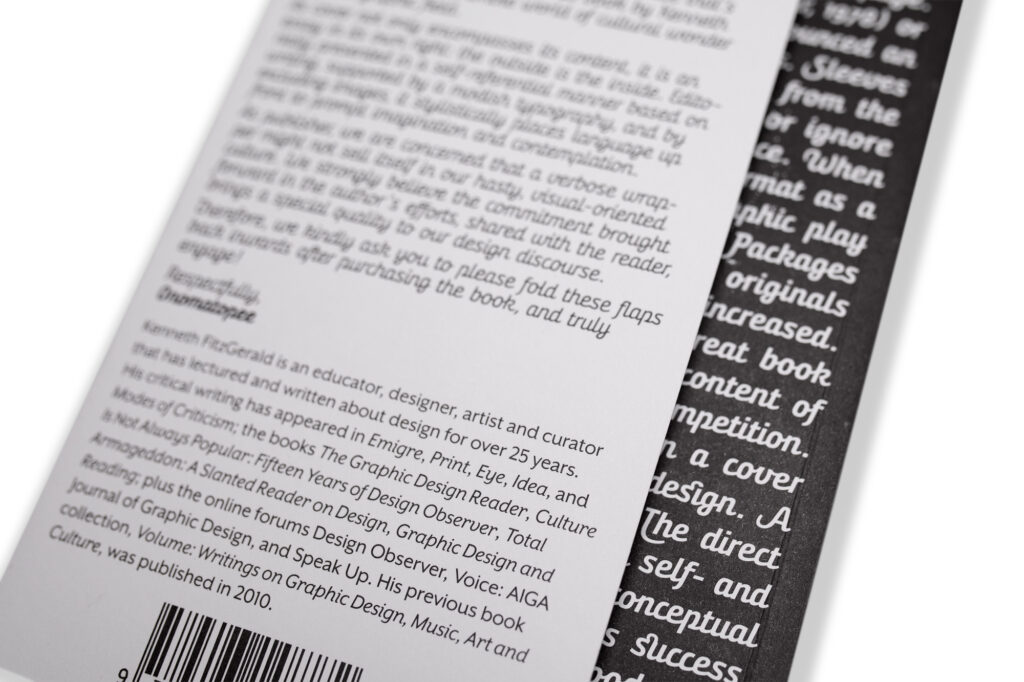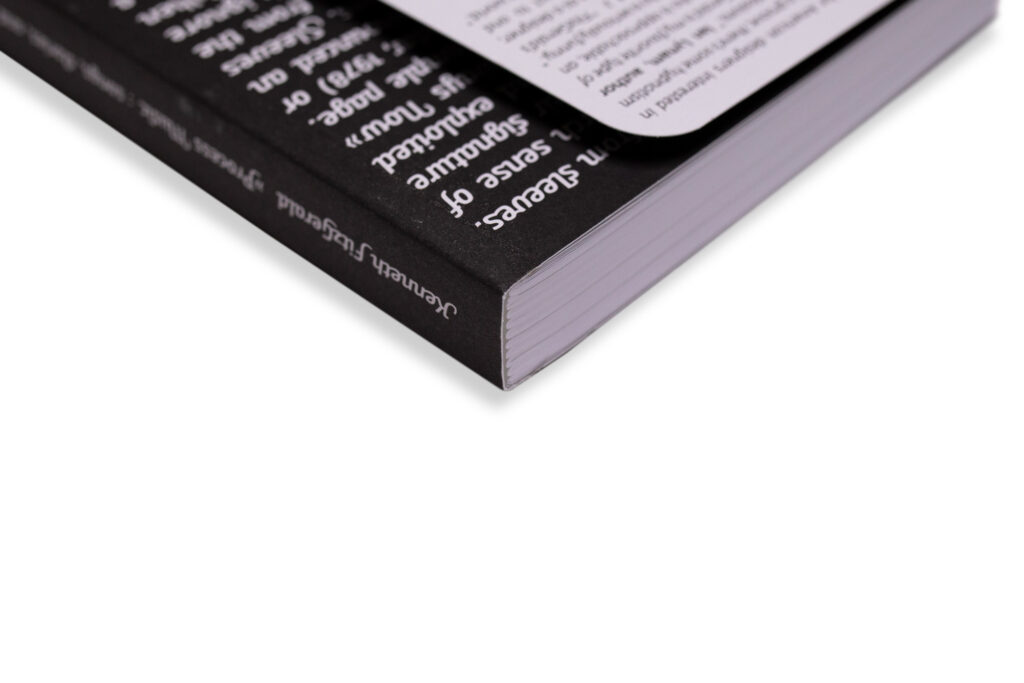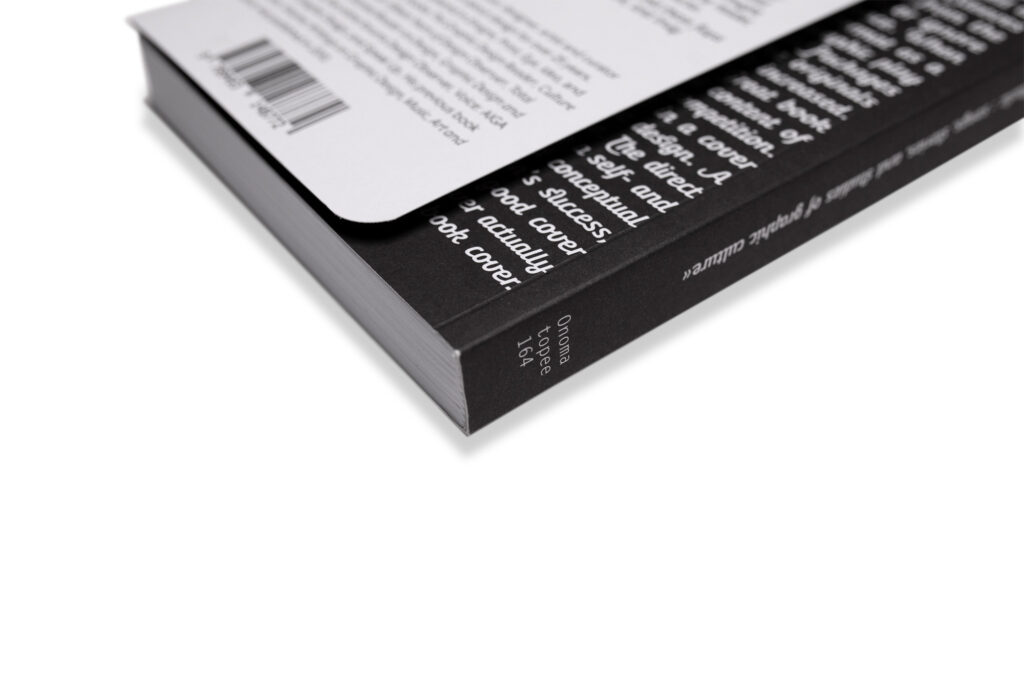 Process Music is available direct from the publisher Onomatopee Projects in the Netherlands. In December, it will be available in the U.S. from Distributed Art Press, Amazon, and other on line booksellers (including Target!).

"Process music" refers to print media and the intentions behind design activity. It is interested in visual culture, providing deeper readings and close viewings of graphic design artifacts and activity, frequently examined through the lens of music. Employing a range of narrative voices, the works combine academic rigor with the accessibility of popular forms like music journalism.
Process Music: songs, stories, and studies of graphic culture is my second book collection of writings and published by Onomatopee Projects. The new book gathers over 40 pieces primarily from the past decade, with reprinted works first appearing in forums like Emigre, Eye, Print, Idea, Modes of Criticism, Design Observer, Speak Up, and Voice: AIGA Journal of Graphic Design. Others are texts of lectures and presentations, have appeared on my blog or elsewhere online, or are original to this collection. Many are unavailable or hard (and expensive) to find. The book also features a prelude composed by AIGA Design Medalist and Design Matters host Debbie Millman.
The book is organized in four sections and a coda: "Blues in CMYK" contains short essays that focus on concepts and topics in graphic design, such as the practice, limits, and potential of design criticism; different aspects of design education; the importance of metaphor and cross-disciplinary inspiration; inclusivity and responsibility in design; the proper context of digital technology; authenticity; the influence of religious faith on design activity, and more.
"Interlude with Designers" presents appreciations of famed and upstart individuals in the discipline, including Barney Bubbles, Paul Rand, William Addison Dwiggins, Jacqueline Casey, Paula Scher, Vaughan Oliver, Martin Venezky, illustrator Mark Andresen, and design activist Andrew Breitenberg.
"Omnigraphy" has expanded reviews and studies on graphic design and music works, performers and practitioners. Figures covered include Josef-Müller Brockmann, Rudy VanderLans and Zuzana Licko/Emigre, Elliott Earls, Stefan Sagmeister, Hipgnosis, Fuel, and the musicians Van Dyke Parks, and British band Cornershop. Artifacts examined include books, interactive projects, typefaces, independent and mass market magazines, posters, and record albums.
"My Back Pages" offers short memoirs and stories that take a personal perspective on creativity, visual culture and communication. Lastly, "(extended play)" offers a short fiction.
…………………………………………………………………
"In this collection of essays, FitzGerald wrestles with all the conundrums and questions that swirl around design writing: who the authors or audiences might be, and how graphic design criticism might move beyond its conundrums. But then, in several other pieces, his generous view of design in relation to other cultural practices just shows us what a deeper dive into criticism can do, and how it can expand beyond its typical narrow definitions."
— Lorraine Wild, AIGA medalist, principal Green Dragon Office
"Thoughtful essays and insightful criticism from a veteran designer and educator, FitzGerald's writing offers cogent analysis on design, culture, and everything in between."
— Jessica Helfand, AIGA medalist, author Design: The Invention of Desire
"At a time when design writing and criticism has been reduced to snarky gripes or over-emphatic praise on social media, FitzGerald keeps alive the practice of considered and nuanced writing that burrows below the surface sheen of modern graphic design."
— Adrian Shaughnessy, author How to be a Graphic Designer Without Losing Your Soul
"FitzGerald has grown a metaxy from his Postmodern roots, finding a permanent place between the two poles of critical design existence. He is at once a lover of design's history and a questioner of the paradigms of that history, a critic, and a questioner of modern and postmodern tenets of criticism. Instead of resting on ironic laurels, he has written his way through to what Luke Turner once deemed the Metamodern — an informed naïveté, a pragmatic idealism, a bit of moderate fanaticism. It's all circled round by a sweet sensibility uninterested in being a victim of visual culture, but rather, in celebrating it." ­
— Natalia Ilyin, author Writing for the Design Mind
"Process Music is incisive, entertaining and open to a broad audience beyond academia. Challenging sacred cows, it maintains an approachable and recognisable tone designers got used to in Emigre, without losing the wittiness, humour and provocation needed to increase the readership of design writing."
— Francisco Laranjo, editor Modes of Criticism
"When graphic design first began to turn a critical lens on itself in the 90s, Kenneth was front and center with a microscope and binoculars. He used these as incisive instruments to assess design and design education, looking at the minute details and the big picture with astonishing insight and precision. The field (or discipline) is smarter thanks to him."
— Louise Sandhaus, AIGA medalist, co-director, The People's Graphic Design Archive
"FitzGerald set the proverbial tone for American designers interested in exploratory writing in the 1990s. There's a groove, there's some hypnotism in play, and there are always, always explosions."
— Ian Lynam, author, Parting It Out, principal, Wordshape
"FitzGerald is my favorite type of design writer: a writer who is a designer, a critic who is approachable, an academic who is easy to read, and a serious scholar who is seriously funny."
— Jarrett Fuller, host, Scratching the Surface podcast
"FitzGerald's writing is well researched and informed by years of practice as a designer, but much more importantly, his words manage to connect to and inquire about his experience as a human being and a citizen of the world."
— Mitch Goldstein, author How to Be a Design Student