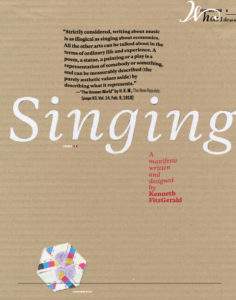 My article "Singing the Surface," which I also designed, appears in the Winter 2016–17 issue of Print magazine. The piece is adapted from a lecture I've presented at a number of different forums. It was commissioned by the magazine for its "Manifesto" feature which began in 2015 and features "insightful essay-length commentary on the field from people who weren't afraid to give it and take a stance." Previous contributions were from James Victore, Art Chantry, Rick Poynor, Mark Kingsley, and David Carson.
My essay "Fuck All" is included in the journal Modes of Criticism 1 – Critical, Uncritical, Post-critical, the initial publication of the Modes of Criticism project of editor Francisco Laranjo. The essay is a response of Michael Rock's essay "Fuck Content," and challenges that article's notion that graphic design history is one of form, not content. You can read the introductory paragraphs here, and order a copy here.
I'm included in the new book Thought Experiments in Graphic Design Education, a project of Booksfromthefuture, edited by Yvan Martinez and Joshua Trees. The book "documents an international mix of experimental, reflexive and speculative projects made by students, educators and practitioners who continue to question how and why graphic design is studied and practiced." My contribution is a reprint of my essay "Chaos Theories and Uncertainty Principles," which first appeared in Volume: Writings on Graphic Design, Music, Art, and Culture.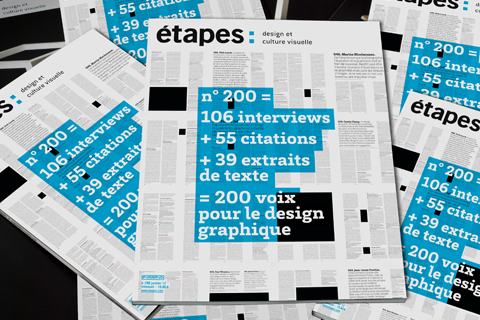 I am one of the 200 "voix pour le design graphique" included in the 200th issue of the French design magazine étapes. The special issue presents the comments of designers, collectors, curators, festival organizers, teachers, and critics on aspects of the state of contemporary graphic design. I was asked to respond to a brief questionnaire on critical writing.
An expanded version of my essay "I Believe in Design" was published in Trust Design, Part Three: Faith Is Trust, as a special insert in  Volume #29: The Urban Conspiracy. The series is produced by the Trust Design project of Premsela, Netherlands Institute for Design and Fashion. Trust Design "explores the relationship between trust and design through various publishing, research and discussion platforms." The original version of the article was published at Design Observer and can be found here.
Volume: Writings on Graphic Design, Music, Art, and Culture, published by Princeton Architectural Press, 2010
Three essays formerly published in Emigre magazine are reprinted in full in their original or remixed layouts in Emigre No.70: The Look Back Issue – Celebrating 25 Years in Graphic Design, published in November 2009 by Gingko Press. The three essays are "Skilling Saws and Absorbent Catalogs" (from #48), "The Last Wave" (#54) and "What Culture Wants, What Culture Needs" (#62). Also included are a number of quotes from various other of my Emigre essays, plus my first appearance in its pages, a letter to the editor.
"Design's Just Dessert," at Voice: the AIGA Journal of Design. One commentator found the essay had an "inspired metaphor" but was ultimately "irresponsible." Like him, most enjoyed the cake mix beginning but disagreed with or were confused by the "not good for you" conclusion.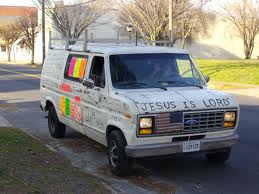 "I Believe in Design," on Design Observer, published March 22, 2009. For a gallery with more images of the van mentioned at the start and end of the piece, go here.
File Under Nowhere: The Photo Albums of Rudy VanderLans (from their "Visual Types" catalog), "Skilling Saws and Absorbent Catalogs" (from Emigre #48), and "Seeing and Reading (A Viewer's Guide to Periodic Literature)" from IDEA 314 are featured in the "Essays" sections of the Emigre web site.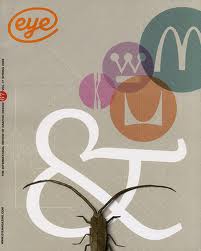 A profile of illustrator/designer Mark Andresen titled "Pesky Illustrator" in the spring 2008 issue (#67) of the international design review Eye.
A review of Kerry William Purcell's biography of Josef Muller-Brockmann (Phaidon) in Eye 64.
"The Printer's Devil's Dictionary," a guest post on the Speak Up design blog, April 2007
Two posts as moderator of Field Trip, the blog component of the Schools of Thoughts 3 graphic design education conference, March 2007.
"The Resistance," an article for Voice: AIGA Journal of Design in January 2007. In addition to the postings along with the article, the essay received a variety of responses on other blogs, from "interesting," and "well-written," to "[the article] irresponsibly mischaracterized and championed unhealthy versions of [design/business and designer/client] relationships."
A contribution to the " Journal Culture Reader" in IDEA 322. It "… asked a number of people who've been involved in the writing, editing, distribution and design of magazines to draw up lists of the magazines that have most influenced their own way of thinking."
An interpretation of the 1998 article, "Skilling Saws and Absorbent Catalogs," by Justin Cram, a student at Art Center College of Design, as part of the Who Knew design project, directed by faculty (and Fake I.D.) member Joshua Trees.
An 8-page visual essay "Useless Things" in the 2005 magazine Redaction, produced, published, and "edited" by Ryan Molloy. The magazine's mission" is to present works of design educators and periphery practitioners striving to create new paradigms in design practice and design writing. Its goal is to highlight designers operating in alternative modes: authors, editors, critics, producers, directors, artists, and researchers."
Redaction Issue One can be purchased here for $8.00 via PayPal.
The essay "An Instructor of Concern" appeared in Voice: AIGA Journal of Graphic Design in February 2005.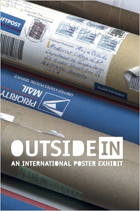 The poster "What I Don't Know About the World" was included in the catalog for Outside In: an international poster exhibit, curated by Maya Drodz, and published by Visualingual in 2004. The catalog is available here for $20.
A foreword, called "Seeing and Reading," to IDEA 314, "A Graphic History of Emigre Magazine 1984–2005," which is a revision of "A Viewer's Guide to Periodic Literature." Also included is a Japanese-only translation of "I Come to Bury Graphic Design Not to Praise It," which originally appeared in Emigre 66.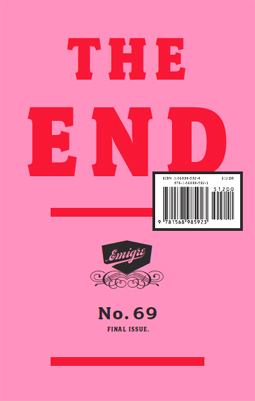 A farewell letter, Emigre 69, 1995
Two excerpts from my visual essay Indenture are included in the seventh issue of Kevin Lo's self-published Four Minutes to Midnight. Indenture was produced for and featured in the exhibition Not for Profit: Designing Across the Social Divide, presented at Loyola Marymount University 's Laband Gallery in spring 2005.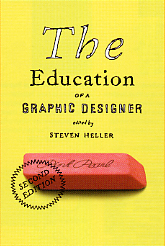 The essay "An Instructor of Concern" is included in Steven Heller's The Education of a Graphic Designer, Second Edition (Allworth Press, 2006). The essay originally appeared in Voice: AIGA Journal of Graphic Design.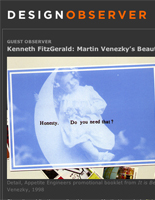 "Martin Venezky's Beautiful Melancholy," an entry on the Design Observer blog, August 2005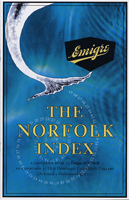 Design and an essay, "A Viewer's Guide to Periodic Literature," for The Norfolk Index— a companion booklet to the exhibition Emigre in Norfolk at Old Dominion University Gallery, 2006.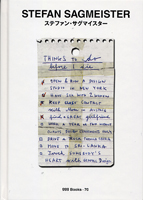 "Salvager," a forward to the Stefan Sagmeister monograph published by GGG Books in Japan, 2005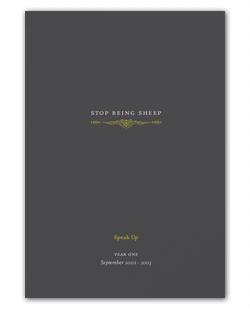 Under Consideration published the booklet Stop Being Sheep, which features a quote from a post I made on the design blog. The title for the booklet (and subsequent series) of collected quotes "was inspired (more like appropriated)" from something I wrote in a separate post. 2003.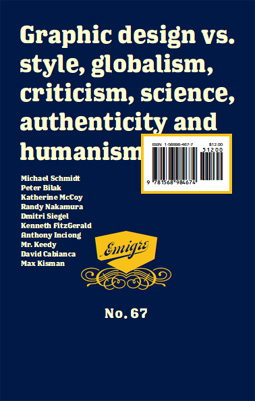 "Buzz Kill," Emigre 67, 2004
"File Under Nowhere," an article on the books of Rudy VanderLans, Emigre Various Types catalog, 2004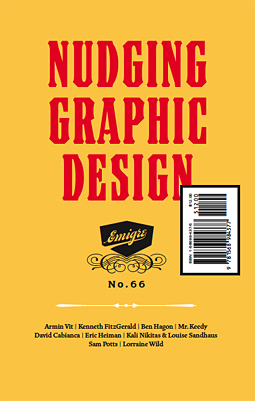 "I Come to Bury Graphic Design Not to Praise It," Emigre 66, 2004
"The Total Artist," a profile of Elliott Earls, Port Folio Weekly, 23 September 2003
A short text for a catalog to accompany work included in the exhibition Form\inform, The Goldstein Museum of Design, Minneapolis, MN, 2003

Descriptions and examples of two class projects included in Design for communication: conceptual graphic design basics, edited by Elizabeth Resnick (John Wiley & Sons), 2003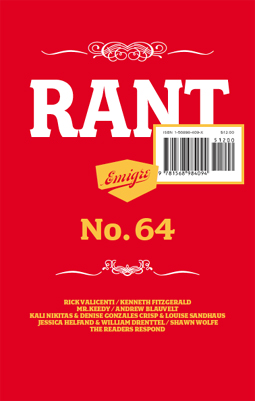 "Quietude," Emigre 64, 2003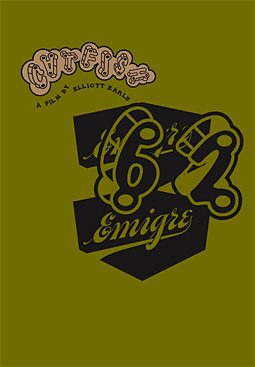 "What Culture Wants," Emigre 62, 2002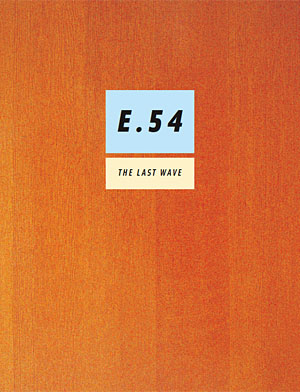 "The Last Wave," Emigre 54, 2000
"Seen and Not Seen," Graphic Design & Reading, edited by Gunnar Swanson (Allworth Press), 2000
"Song Cycle Revisited," Palm Desert: book/CD by Rudy VanderLans (published by Emigre), 1999
"Fanfare For the Common Hack," Eye 27, 1998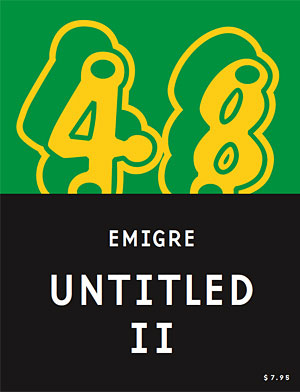 "Skilling Saws and Absorbent Catalogs," Emigre 48, 1998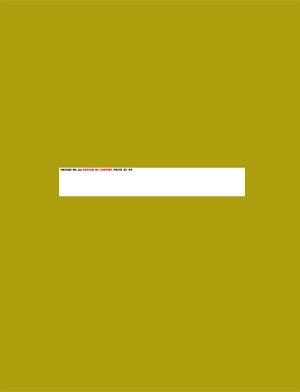 "Fuel Full Pull Poll Pool Cool Cook Book," Emigre 44, 1997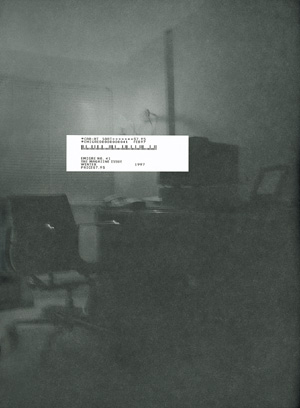 "On Creem Magazine," and The News of the Whirled #1, as a special insert, Emigre 41, 1997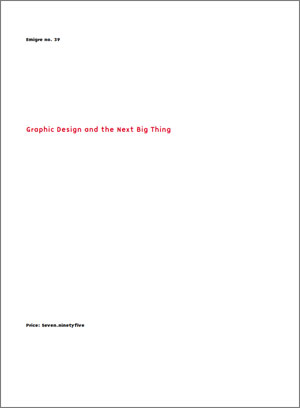 "The Angel Is My Floating-Point!", Emigre 39, 1996